Retail Location Analysis & Strategy
Now more than ever capital intensive decisions about retail space and sites is critical to retail success.

Optimize location ROI
Modeling processes and consecutive calibrations can reduce the risk of store deployment with up to 14% in solid forecast of potential.
PBS Modeling Team
Must maximize sales potential and minimize cannibalization in distribution channels.
Need to analyze market opportunities and identify prime locations to make quick, confident decisions.
Increase location profitability
| | |
| --- | --- |
| | Brands with the tools to predict new store potential drive higher top line sales from the expanded fleet. |
| | Need better understanding of how customers will transfer as sister stores are adjusted. |
| | Must place value on store prototype and site characteristic analytics. |
Create strategy for brick & mortar expansion
Brands need to prioritize expansion strategies based on higher costs and risks of greenfield/curbside markets.
Global Retail Banking Study Serves Buffet of Tasty Factoids
Need stores to keep up with changes in trade area demographics.
Use analytics to improve strategy buy-in by executive, investors and boards.
The journey of your site selection process – is just as important as the site destinations you choose! It's key that you partner with experienced advisors – that can guide you throughout the whole process – from confidently analyzing market opportunities – to maximizing your current real estate portfolio.

Common mistakes in retail site selection

---
Limitations of a Forecasting Model

Models reflect standardized realty but not all variations of a given site.
Unbalanced Approach

Lack of balance between optimal customer profile and critical population
mass limits success.
Silos

Unshared real estate models limit organizational coherence.
---
Proper use of real estate modeling enables improved customer targeting and provides business insights for site selection.
New dynamics, such as multichannel consumer interactions, are adding layers of complexity to optimizing real estate portfolios. This enhances the need to scrutinize real estate opportunities and identify prime locations – often in a new and unfamiliar context. Whether your priority is facilitating an aggressive roll-out or optimally managing an existing array of locations, it has never been more critical to employ sound analytics and avoid the common snares that plague real estate departments.
Enhanced real estate decisions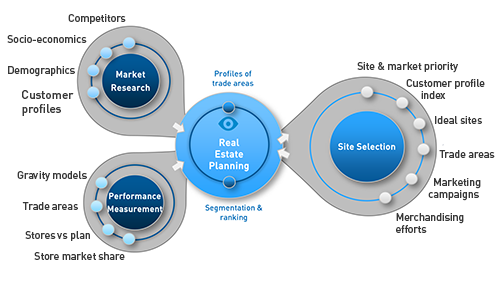 Our Pitney Bowes Software solution provides retail real estate professionals with help making critical and capital intensive location decisions by helping you confidently forecast sales prior to decisions and choose the best sites to expansion, renovation or closings.
By providing a better alignment in the real estate site portfolio, the retailer will have better ROI on real estate decisions and improved profitability at the store level.

Capabilities include:
Custom modeling solutions
Multiple easy to use mapping technologies, including detailed reporting and visual display of mapping and data - all powered by the renowned Thompson predictive analytics.
Working with our experienced advisors, real estate professionals have better insight to:
Determine optimal sites for stores
Analyze markets to target profitable customers
Improve under-performing locations
Confidently forecast sales
Manage real estate portfolio through clear decisions on closing, relocating or maintaining existing units
Optimizing real estate decisions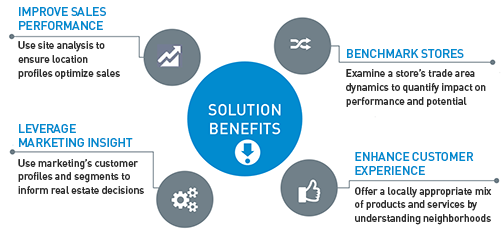 Pitney Bowes Software offers the industry's most comprehensive suite of retail modeling and market evaluation solutions, from powerful predictive analytics capabilities to the industry's leading retail modeling software and data. We help organizations of all sizes capitalize on market opportunities with customer or off-the-shelf solutions and support to make sure the best possible research plan is selected, resulting the highest chances for successful deployment.

As the leading global provider of location intelligence solution, Pitney Bowes Software has developed a unique array of market data, innovative software, display analytics, advanced modeling and service offerings for strategic real estate decisions. The world's leading brands rely on our Predictive Analytics Services group to help select sites and markets for expansion, in-fill or deployment.

Our solutions provide the market understanding required for more profitable, fact-based decisions that justify substantial real estate investments. Our proven methodologies are supported by over 40 years of real-world successes, in-depth field experience and on-site consultations. This transparent process delivers more accurate results.

Validation

| | |
| --- | --- |
| | "When assessing locations for new facilities, 24 Hour Fitness relies of Pitney Bowes Software models to analyze markets, forecast member potential and pinpoint pockets of opportunity" – 24 Hour Fitness |
| | "The question is always "What does Pitney Bowes Software say?" No real estate or drug store acquisition decision is made without (it)." - Rexall |
| | "Pitney Bowes Software provides the sophisticated predictive analytics and site modeling capabilities we need to make smarter decisions and avoid potentially costly mistakes." – Denny's |
Proper use of real estate modeling enables improved customer targeting and provides business insights for site selection and optimizing the real estate portfolio.
Key recommendations include:
Establish long term, actionable plan for your current real estate portfolio.
Set the right performance expectations for your locations and help them achieve plan.
Use data driven models to understand the true opportunity from each trade area.
Align marketing and sales to achieve goals.
Provide directors, analysts and marketers valuable insight into market data, allowing them to easily analyze the relationship between the performance of a location relative to the market area demographic characteristics.
Close the gap between retail network optimization and customer interaction.
Leverage customer interactions to drive customers back into the stores.
| | |
| --- | --- |
| | 10 Common Mistakes in Retail Site Selection |