Customer Experience Management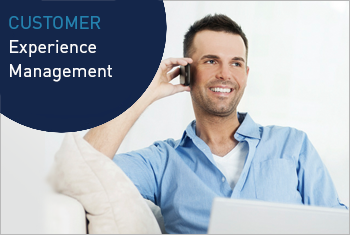 Although customer experience has become an important way retailers can differentiate themselves, engaged customers expect retailers to:

Single customer view
An explosion of channels makes it difficult to know customer holistically.
About 70% of retailers haven't changed customer engagement strategy in three years.
Retail TouchPoints – 6 Steps to Engage the Socially Connected Shopper
Need seamless, consistent online and in-store experiences to increase rate of purchase.
Relevant marketing activity
Associates with real-time customer information bring more value to customers.
Retail TouchPoints – 6 Steps to Engage the Socially Connected Shopper
Retailers with a loyalty program are 88% more profitable than those without.
Deloitte retail survey
Need a more tailored approach to improve customer experience.
Mobile engagement
1 in 3 shoppers use a smartphone in store to find discounts and coupons
Retail TouchPoints – 6 Steps to Engage the Socially Connected Shopper
Retailers now use mobile POS and apps, location-based targeting and other interactive tools to connect with shoppers during purchase.
Must make mobile technology a vital part of the shopping and buying experience.
Shoppers are more demanding. They use multiple channels based on those they find most convenient, depending on what they need/want to do.


The explosion of channels has made it difficult to know the complete customer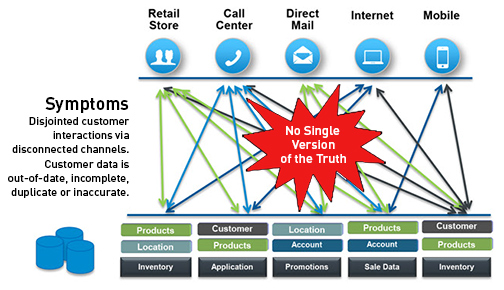 Know your customer's full relationship and history to offer the best next action that is most relevant to your customer.
Retailers need to connect with shoppers though all mediums, to enhance customer communications and optimize CRM results. Having and leveraging a single view of the shopper, will improve the customer experience, increase the right offers for that customer and result in increased sales and revenue.
Optimize the interaction with shoppers across all channels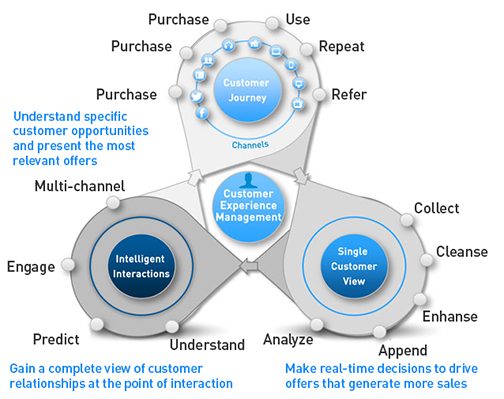 Enabling Multichannel Communications
Optimize the interaction with shoppers across all channels. Our integrated Pitney Bowes Software solution provides retailers the ability to develop a single view of their customer, understand their full relationship (both personal and in-direct), and optimize the interaction with every customer across all channels. This enables the retailers to position the most relevant best next action for their consumer in real-time given the context, timing and channel of interaction. This will result in increased satisfaction, increased revenues/performance and alignment of sales goals with marketing activities and messages.

Capabilities include:
A unique, complete 360 view of the customer relationship to both influence and proximity, provided at the point of interaction.
Understand the specific opportunity each customer represents, and allow for targeting each customer with the most relevant offer.
Real Time Decision (RTD) will drive the right offers and best next action given the context of the customer interaction, channel, timing, and current relationship.
Quickly connecting data across touch-points while leveraging existing systems.
Greater customer intimacy and improved customer experience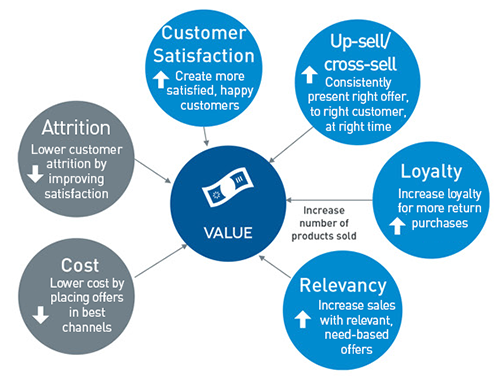 Pitney Bowes Software integrated solution provides retailers the ability to have a single view of the customer to optimize the interaction with their shoppers across all channels, enabling the retailers to position the most relevant best next action for their customer. This also provides the brand the same voice across all channels.

Benefits include:


360 degree customer view that includes profile, extended network and location intelligence
Identifies brand ambassadors, influencers and where transactions occur and proximity to purchasing channels
Combined MDM and analytical platform
Incorporate a variety of data products to enrich each individual customer profile
Analytics allow for each representative and sales associate to be as good as the best



| | |
| --- | --- |
| | "Portrait Software offers strong performance in analytics, interaction management and inbound and outbound dialogue across a variety of channels." Forrester |
Our solution will drive increased revenue and sales resulting in better insights and actions, and increased shopper satisfaction.
Key recommendations include:
Provide seamless channel integration. Developing single view of customer and making that view available to customer facing representatives - demonstrate "you know me".
Analyze past, present and future data. Recognizing customer transaction history in problem resolution, as well as offer management process flows - demonstrate - "you want to help me/you care about me"
Improve customer experience. Focus on a unified communication strategy at all interaction points to ensure customers are treated uniquely and receive relevant offers that influence their propensity for repeat purchases - demonstrate "you know where and when I need to be engaged"
| | |
| --- | --- |
| | Forrester: How Analytics Drives Customer Life-Cycle Management |
Enabling Retail Customer Relationships