Omni Channel Customer Experience Management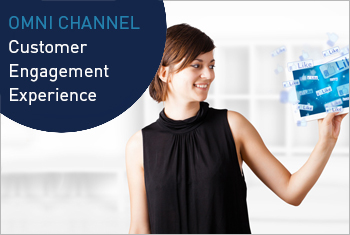 Banks are faced with three critical business issues.

Increase Customer Satisfaction
55% of consumers think banks are poor at meeting their needs.


Global Retail Banking Study

56% of customers are more likely to switch banks due to bad service than to get a better deal.


Trends in Retail Banking Channels: Improving Client Service and Operating Costs.

PROVIDE consistent real-time customer information across all channels.
Increase Customer Revenues
Less than a third of a customer's wallet is held by the average bank.


The Wallet Share Race

DEEPEN existing relationships with significant revenue potential
CREATE a single view of customer to manage opportunities, relationships and risk
Efficiency / Expense Reduction
71% of consumers still say they prefer to open an account in the branch


Global Retail Banking Study

On average 2.9 channels are used to purchase a product.


Global Retail Banking Study

NEED more relevant offers with higher acceptance rates to increase sales

MUST lower cost by placing offers in automated channels when practical



Customers are more demanding. They use multiple channels based on those they find most convenient, depending on what they need/want to do.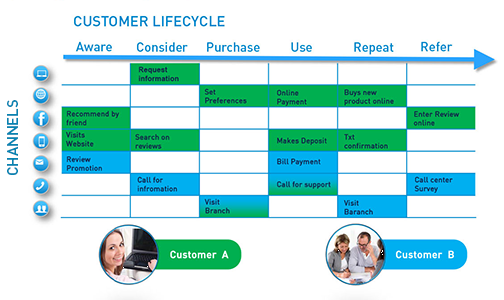 Banks need to connect all client channels, to enhance customer communications and optimize CRM results. This will result in increased customer satisfaction and optimized response to offers leading to increased sales and revenues.
Enabling Multichannel Communications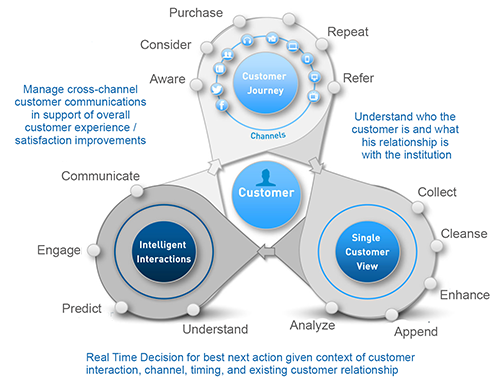 Our integrated Pitney Bowes Software solution provides our financial institutions the ability to develop a single view of their customer, understand their full relationship (both personal and in-direct), and optimize the interaction with every customer across all channels. This enables the financial institution to position the most relevant best next action for their customer in real-time given the context, timing and channel of interaction. This will result in increased customer satisfaction, increased revenues/performance and alignment of sales goals with marketing activities and messages.
Capabilities include:
Real Time Decision (RTD) for best next action given context of customer interaction, channel, timing, existing customer relationship.
Maintains record of previous communications and provides that history to customer facing associates in call center and branch.
Aligns local market opportunity with sales goals and sales enablement tools, including CRM and marketing programs.
Turn customer experience into revenue generation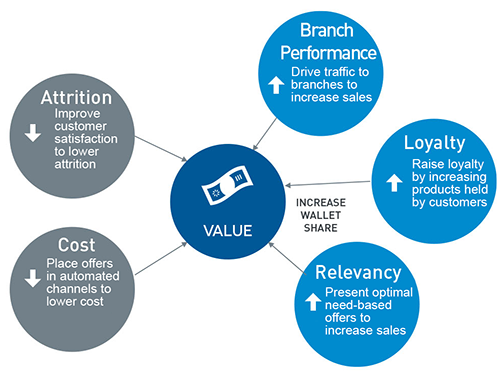 Pitney Bowes Software solution supports real time decisioning at point of customer interaction. Combined with robust analytics that recognize full existing relationship, this solution enhances the financial institutions CRM results by determining the best next most relevant offer based on the context of the interaction and contact channel. The solution also aligns customer analytics with sales goals and marketing campaigns such that activities are based on common analytic platform.
Benefits include:
Analytics allow for each representative and sales associate to be as good as the best – making every banker smarter.

Enhanced customer experience will result in longer, more profitable relationships resulting from relevancy of offers presented.

Includes tools and dashboards that allow you to monitor success for managers based on bank hierarchy structure.
Validation

"We increased cross-sell revenue by 300% and reduced mailing volume by 40% at the same time."
Jane Muelhaupt, VP Consumer Direct
"We can treat all 11 million customers as individuals, and are well placed to better meet their needs and thus do more business with more people for longer than we did before"
Simon Baines, Head of Customer Insight,
Nationwide Building Society
Our solution will drive increased revenue and sales resulting in better customer insights and actions, and increased customer satisfaction.

Key recommendations include:
Provide seamless channel integration.
Developing single view of customer and making that view available to customer facing representatives – demonstrate "you know me".
Analyze past, present and future data.
Recognizing customer transaction history in problem resolution, as well as offers management process flows – demonstrate "you want to help me/you care about me".
| | |
| --- | --- |
| | Forrester believes there is a wide gap between the customers' viewpoint and the bank's perception when it comes to the growth of customer accounts. See how customer interaction and customer experience management professionals view this market challenge. |