mailstation2™ Mailing System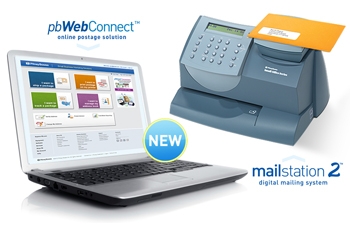 The small business mailing and shipping system that delivers big savings every day
Introducing the mailstation2™ with pbWebConnect, the Do-It All Digital Mailroom.

Mail Ship Save
The mailstation2™ provides the speed and accuracy of getting your everyday letters, postcards and large envelopes out the door

Now with pbWebConnect, you can save even more with the convenience of online applications. Send documents and packages with ease. From printing USPS® shipping labels to tracking packages, managing your shipping is all at your fingertips. Even print postage for letters from your PC when working from other locations.

Save up to 25% on postage.
Take advantage of exclusive USPS® discounts on Priority Mail® and Express Mail®

Avoid waste by printing accurate postage every time with the built-in scale

Save time and gas by eliminating trips to the Post Office even when working remotely.

Enjoy flexibility.
Get mail and packages out the door in the office or from other locations, wherever business takes you.

Reduce hassles
Never run out of stamps again. Print exact postage on demand.

With pbWebConnect™, take advantage of online tools to save money and reduce hassles
Ship packages easily and save up to 25% or more

Print USPS shipping labels via any PC*
Up to 15% savings on Priority Mail®
Up to 25% savings or more on Express Mail®
Free Delivery Confirmation with Priority Mail®
Track USPS®, FedEx®, and UPS® packages from one website
Verify addresses to avoid delays in delivery

Print postage on demand via labels or directly on envelopes via a PC for letters when working remotely.
Manage your postage spend via the web
With the mailstation2™, handle everyday mail in the office with ease
Built in scale to calculate exact postage – avoid guessing
Print postage on demand – on letters, large envelopes, packages and postcards
Refill postage instantaneously* – eliminate running out of stamps

Option to auto refill postage when balance gets low

Handle multiple letters and large envelopes with ease. Up to 18 letters per minute.
Postage rates updated automatically when postage prices go up – one less thing to think about.
Promote your business - print a message or QR Code onto your envelopes
* Internet connection required
How does the mailstation 2™ with pbWebConnectTM save me money?
Studies show you can save up to 20% on your postage costs by eliminating guesswork. The mailstation 2™ system's built-in scale calculates exact postage every time.
Does postage cost the same as at the Post Office?
Postage costs the same or less than at the Post Office. Mailstation2™ with pbWebConnect™ customers can save up to 15% on Priority Mail® and up to 25% or more on Express Mail® over the price you pay at the Post Office. Also, you are eligible for FREE Delivery Confirmation™ with Priority Mail®
Is the mailstation 2™ with pbWebConnect easy to use?
Yes. Easy to read menu prompts and convenient buttons on the mailstation2TM keep it simple. Plus, with pbWebConnect, you can easily set some of the features of your meter via your PC and access several web based services that are user friendly.
How do I add postage to the mailstation 2™ system?
The mailstation2 with pbWebConnect connects to the Pitney Bowes Data Center via the internet. Just connect the mailstation2 to your local network via Wi-Fi or the provided network (ethernet) cable. Save trips to the Post Office. You have the option to enable the automatic refill of postage when the balance gets low.
What is the charge for adding postage to the mailstation 2™ system?
This offer includes unlimited refills of postage with no refill fees.

What is the size of the mailstation2™ with the integrated scale?
13.6" L x 11.1" W x 8.5" H. Weight is 8.7 lbs.
What are the requirements to access pbWebConnect via the web?
Windows based PCs or Macintosh® with Internet Explorer® 7+, Firefox®, Chrome® or Safari® 5.1+ browsers

Can I buy the mailstation2™ with pbWebConnect instead of renting?
No. Only authorized postage meter manufacturers and the U.S. Postal Service may hold title to meters.
pbWebConnect requirements
Web Browsers: Internet Explorer® 7+, Firefox®, Chrome®, Safari® 5.1+

Mailstation2 specs
| | |
| --- | --- |
| Average Monthly Mail Volume | <100 pieces |
| Speed | Up to 18 LPM |
| Envelope Feed | Manual |
| Media Sizes | Letters, large envelopes, & small packages |
| Media Thickness | 1/4" |
| Flap Depth | N/A |
| Integrated Weighing Options | 2 lbs., 5 lbs. |
| Optional Interfaced Weighing | N/A |
| Differential Weighing Options | N/A |
| Integrated Weigh on the Way® (WOW) | N/A |
| International Rates | Yes |
| USPS and Carrier Rate Updates | USPS |
| Connectivity | Network enabled (via Wi-Fi or Ethernet cable) |
| Size | 13.8" L x 10.4" D x 8.4" H |
| Weight | 13 lbs. |
| Electrical | 100-120 VAC, 50/60 Hz, 1.0 A |
Offer good for new customers only. After the 60-day trial, rent the mailstation2 meter with pbWebConnect for $24.99 per month for one year, plus the cost of postage, refills and supplies you use. An initial postage deposit is required. If you are not completely satisfied, return the meter and scale during the trial period with no further obligation. Any unused postage will be returned by the USPS. Internet connection required with mailstation2. Access pbWebConnect online features via PC with Internet access. Cannot be combined with any other offer. By ordering, you represent that the meter and/or scale will be used for business or commercial purposes only, and this is not a consumer transaction. Additional terms and conditions apply to your rental in accordance with the applicable Pitney Bowes rental agreement that will accompany your order. © 2012 Pitney Bowes, Inc. All Rights Reserved.
For Product Info & Pricing