DI900 FastPac® Inserting System
The DI900 FastPac® Inserting System offers enhanced functionality and features to address most high-end tabletop folding and inserting needs. It has a modern look and a sleek design to fit the needs of most mid and large-sized businesses and mail centers, enabling more system functionality with a smaller footprint.

Technological advances in the DI900 include a Tower Feeder that will hold up to 4 interchangeable feeders and an optional High Capacity Sheet Feeder with two trays that will hold up to 1,000 sheets each. Both the Tower Feeder and the High Capacity Sheet Feeder integrate the latest scanning technology to process both simple and complex jobs with a high degree of integrity. This inserter is smart and reliable PLUS it is very easy-to-use.
Benefits
PacPilot control panel offers unprecedented ease-of use.
High productivity. Will process up to 4,300 pieces per hour or 120,000 pieces per month.
Exceptional throughput for complex jobs, especially when feeding multiple sheets from the same tray.
Supports a wide range of envelope sizes, including small envelopes, from 6 3/4" to #11 and flats 10 1/2" x 13 1/2".
Excellent system for short runs and reprints in production mail operations. Automates jobs that are currently done manually.
Load-on-the-fly capabilities allow the system to pause until new material is loaded, which increases productivity by not stopping the system during a job to refill the stations.
The Clear Deck function allows the customer to clear all the material within the transport area at the touch of a button at the end of each job.
Optional High Capacity Sheet Feeder allows for a total of 2,000 sheets per feeder, which is more then double the capacity of a single sheet feeder.
All feeders are linked including the envelope feeder to increase running time.
A variety of high production and versatile stackers are available.
Small footprint, basic system fits on a standard 60" inch table.
For the highest level of integrity and security, optional advanced document scanning software is available.
Ergonomically convenient automatic height adjustable tables with shelf and doors.
The following specs are for the DI900 FastPact 3 Flex 4 Sheet model.<BR> >Compare additional models
| | |
| --- | --- |
| Max feed stations | Up to 7 sheets, 3 inserts |
| Monthly volume | 120,000 |
| Cycle speed/hour | 4,300 |
| Daily mail/convenience feeder | Yes |
| Folding Options | No Fold, C Fold, Z Fold, Single Fold, Double fold |
| Sealing | Yes, also controllable by scan |
| Bottom address capability | Yes |
| Swift Start™ | Yes - load paper and envelopes - inserter programs itself |
| Sheet feeder capacity | 350 |
| Insert feeder capacity | 350 slips/cards |
| Envelope feeder capacity #10 Envelopes | Tower insert feeder holds 250 envelopes. |
| OMR, 1D, & 2D Barcode options | Yes |
| Mailpiece Integrity Options | Yes |
| Weight | 326.5 lbs |
| Electrical | 12oVAC / 60Hz |
For Product Info & Pricing
Prints at speeds of up to 90 ppm with deep paper trays and an expansive print area up to 21 7/16".
Learn More
DA80f AddressRight® Addressing System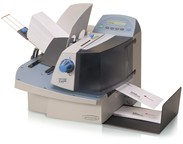 Speed and efficiency to enhance your mailing operations.
Learn More