Diversity and Inclusion
Pitney Bowes has been recognized for decades as a leader in valuing and leveraging diversity. From a heritage of respect for the individual, we have developed a culture in which the importance of diversity is embedded in our business model and employee value proposition. Our diversity helps us better understand evolving markets, connect with our global client base, develop innovative solutions, and attract and retain outstanding talent.
As the concepts of diversity and inclusion have evolved, so has our approach. We have integrated diversity initiatives into every area of operations, from talent management to the ways we foster innovation and manage client relationships. As a company with operations in many countries around the world, we have also become more global in our diversity and inclusion programs and practices.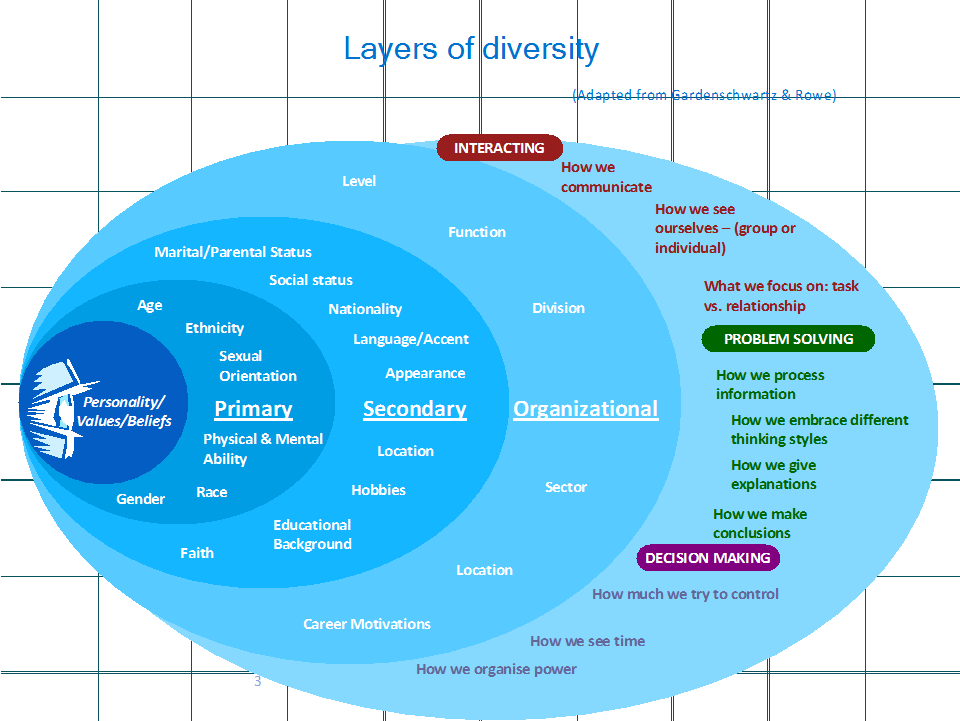 We have also cultivated a network of external partnerships in areas such as talent acquisition and retention, supplier diversity, legislative matters and branding. Through these partnerships, we raise our visibility among top-tier candidates while providing development opportunities for employees who work with these organizations and serve on their boards. The groups we work with span the fields of engineering, information technology and business enterprise. They include the National Black MBA Association; National Hispanic Corporate Council; National Society of Black Engineers; National Urban League; Society of Hispanic MBAs; INROADS, Inc.; and the Society of Women Engineers. In 2012 we also joined the 100,000 Jobs Mission, a coalition of companies committed to hiring at least 100,000 transitioning service members and military veterans by 2020.
At a tactical level, our approach has four dimensions:
Representation: We monitor the composition of our workforce and seek to reflect the diversity of available talent at company locations.
Recruitment: We work with external partners such as the Society of Women Engineers and the National Society of Black Engineers to recruit people who will strengthen our diversity representation.
Retention: We offer web-based seminars, networking sessions, speaker events and conferences to help develop our diverse talent.
Leadership: We regularly incorporate senior executives into our programs, and we offer leadership development opportunities for key women and people of color to help them grow their skills, obtain cross-functional experience and gain senior-level visibility.
International Diversity and Inclusion Council
Formed in 2007, the Europe-based council includes representatives from all of our businesses and geographies, who work together to create a more inclusive working environment through training, leadership example, recognition and communications. In addition to conferences, regional briefings and training sessions throughout the company, the council also sponsors the International Diamond Awards annually for individual and group leadership in the areas of diversity and inclusion. In 2012, Diamond Award winners included individuals and teams in France, India, Norway and the United Kingdom.
Awards and Recognition
Pitney Bowes and its employees continue to earn recognition from numerous external organizations for excellence in diversity and inclusion. Among the awards:
Diversity/Careers in Engineering & Information Technology: Best Diversity Company 2012, 2013
DQ-CMR Best Employer Survey (India): No. 8 Best Employer: Employee Size <2000 Employees, 2012
Hispanic Business Magazine: Best Companies for Hispanics 2012
NASBA Center for the Public Trust: Being a Difference Award 2011-2012
Profiles in Diversity Journal: Women Worth Watching 2013
Westchester Greater Connecticut Chapter of the National Black MBA: Corporate Partner of the Year 2012, 2013
Canada's 2012 Top 100 Employers: Canada's Best Employers for New Canadians 2012
Supplier Diversity

Pitney Bowes's
commitment to diversity extends throughout its supply chain. For information on supplier diversity programs, please see the Clients and Suppliers section of this report.

INROADS internships
Since 1987, Pitney Bowes has worked with INROADS, Inc. to identify and develop outstanding underserved students and prepare them for corporate and community leadership. Students apply to INROADS between their freshman and sophomore years in college, and those accepted receive career coaching, training and summer internships with a view to full-time employment upon graduation. In 2012, we hosted 18 INROADS interns in accounting, communications, engineering, human resources, marketing, product management and corporate citizenship.

Catalyst India Celebrates "Communities That Count"
In April 2012, a delegation from founding supporter Pitney Bowes joined other members of the Catalyst India Advisory Board at a reception in Bangalore commemorating 50 years of expanding opportunities for women in business. Founded in 2011, Catalyst India WRC is committed to accelerating this expansion in an economy in which 67 percent of employers are struggling to fill jobs, yet women still make up only 23 percent of the private sector labor force. With offices in the United States, Canada, Europe and India, Catalyst has more than 600 members around the world, including businesses, schools and associations that collectively employ millions of women.