Employee Involvement
We know that good corporate citizenship helps us to attract and retain good employees. We also recognize that our people can develop useful skills outside the workplace. And we believe that encouraging engagement in our local communities reinforces employees' engagement in our company. For all these reasons, we encourage employees to get involved as volunteers and supporters of community organizations.
Matching of Employee Contributions

We encourage employees to make charitable donations, and we support their efforts by matching their contributions to eligible charities in the United States, Canada, the United Kingdom and the Asia Pacific region. We conduct annual giving campaigns and allow employees to contribute through payroll deduction. We match their contributions to eligible charities 100 percent.
Employees Use Social Media to "Give Smart"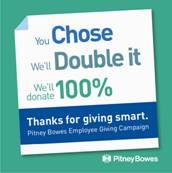 A one-hour "Yam-Jam" on the Pitney Bowes Yammer social networking platform yielded 164 posts and more than 40 threads, as a company-wide online conversation helped spark an increase in contributions to United Way and other charities. The use of social media adds a powerful dimension to charitable fundraising, bringing employees together to celebrate the importance of supporting charities such as the United Way and the Pitney Bowes Relief Fund.
Global Grants for Volunteerism
Each year, we provide grants to nonprofit organizations where our employees volunteer through our individual recognition grant program (with grants ranging from $125 for 25 hours of service to $500 for 100 hours). We also cover the costs of supplies and materials needed for employee volunteer efforts through our competitive team project grant program.
Volunteering that Supports Personal Development
In keeping with our philanthropic focus, we offer employees structured volunteering opportunities linked to literacy and education initiatives. At the same time, we see volunteer service as an opportunity for employees to develop their skills, and we provide employees with guidelines that map volunteer opportunities to specific skills and core competencies that employees are interested in developing.
Nonprofit Board Service Program
We encourage employees to serve on local committees and nonprofit boards and provide them with resources to find opportunities in their communities. We also work with grantee organizations and other charities whose missions support our philanthropic goals to identify volunteer leadership opportunities. Our Corporate Philanthropy and Strategic Talent teams work together to match employees' passions and development goals with the opportunities available. We also recognize outstanding volunteer initiatives through our company's highest employee honor, the Pitney Bowes Impact Award.
Holiday Mail for Heroes brings greetings to more than a million
Once again Pitney Bowes and the American Red Cross combined forces to bring holiday greetings from people all over the United States to military personnel, veterans and their families around the world. The 2011 outpouring of 1.2 million cards through the Holiday Mail for Heroes program was one of the largest in the five-year partnership. A new option allowed people to purchase specially designed cards online, resulting in an extra $4,000 in donations to the American Red Cross. Since the program's inception in 2007, the public has sent more than 4.7 million cards to hospitals and military installations around the world, including those in Afghanistan, Germany, Japan and Kuwait.
"One rupee a day" from PB India employees adds up for local orphanage
A group at PB India found a painless way to collect funds for children from poor families. The opportunity to make a difference by donating "just one rupee a day" has proved to be a hit throughout the office. So far, they've raised more than 90,000 Indian rupees in support of a local orphanage.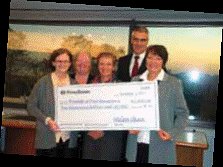 Friends of Thai Daughters Reaches Around the World to Stop Human Trafficking
Eric Yves Mahe, President, Growth Markets, based in Singapore, has been involved for two years in the fight against human trafficking in the Mekong region. As part of this effort, he recently joined the board of Friends of Thai Daughters, a U.S.-based nonprofit working to prevent trafficking by providing children in northern Thailand with a safe place to live and a quality education. Recently, Pitney Bowes awarded a grant to Friends of Thai Daughters in recognition of Eric's leadership. Shown in the photo are Kathleen Ryan Mufson, Polly O'Brien Morrow and Eric Mahe of as they present Pitney Bowes's check to Patty Zinkowski and Jane McBride, co-founders of Friends of Thai Daughters. The funds will support the building of the organization's first school and its first year of operation. For more information, visit www.friendsofthaidaughters.org.
Disaster relief
The Pitney Bowes Relief Fund, a U.S. 501(c)(3) charity, was established in 1992 to provide for colleagues and others whose lives are disrupted by natural disasters or personal misfortune. Financed by employee contributions and a Foundation match, the Relief Fund gives recipients access to food, shelter, clothing and medical care in catastrophic situations. Pitney Bowes bears the Relief Fund's administrative costs, ensuring that all donations directly benefit those who need assistance. The Salvation Army manages the Relief Fund's grants and refers employees to community-based resources where appropriate. Since its inception, the Relief Fund has distributed more than $2.7 million in assistance.
In addition, the Pitney Bowes Foundation launches special matching appeals following natural disasters that impact Pitney Bowes employees, customers and communities outside the U.S. In 2011, appeals conducted following the earthquakes in Japan and New Zealand resulted in $37,000 in donations and matching funds to the Red Cross, AmeriCares, the International Rescue Committee and Save the Children.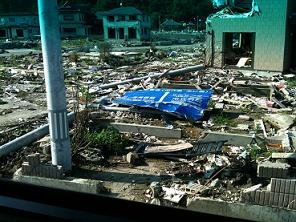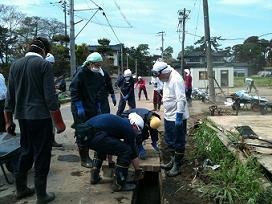 AsiaPacific Employees Respond to a Year of Natural Disasters
From the earthquakes in Japan and New Zealand to the floods in eastern Australia, several disasters wrought havoc across vast areas and populations in 2011. Pitney Bowes Software employees pitched in with software, services, cleanup crews and a variety of related volunteer activity.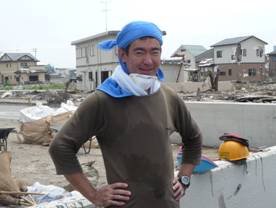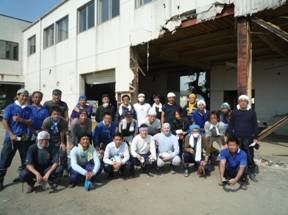 In the hard-hit areas of Ishinomaki and Gambaro Tohoku, Japan, 69 Pitney Bowes Japan employees joined volunteer parties working both weekdays and weekends through the spring and early summer of 2011. A second cleanup round in May 2012 also drew more than 60 employee volunteers.